What Can You Do on MyCompass?
MyCompass enables you to recognise your best interests and potential and provides recommendations for college majors up to your very career.
Always check your Notifications so that you don't miss the various updates. Come on in and check the features you can use on MyCompass.
Want to prepare for college but don't know where to start?
Progress Timeline, MyCompass takes you through step by step, from knowing your potential, through Personality, Interest, Learning Styles, Capability and Personal Values assessment modules, up to recommendations for suitable courses. Once you complete a module, Progress Timeline will unlock automatically for you to proceed to the next module.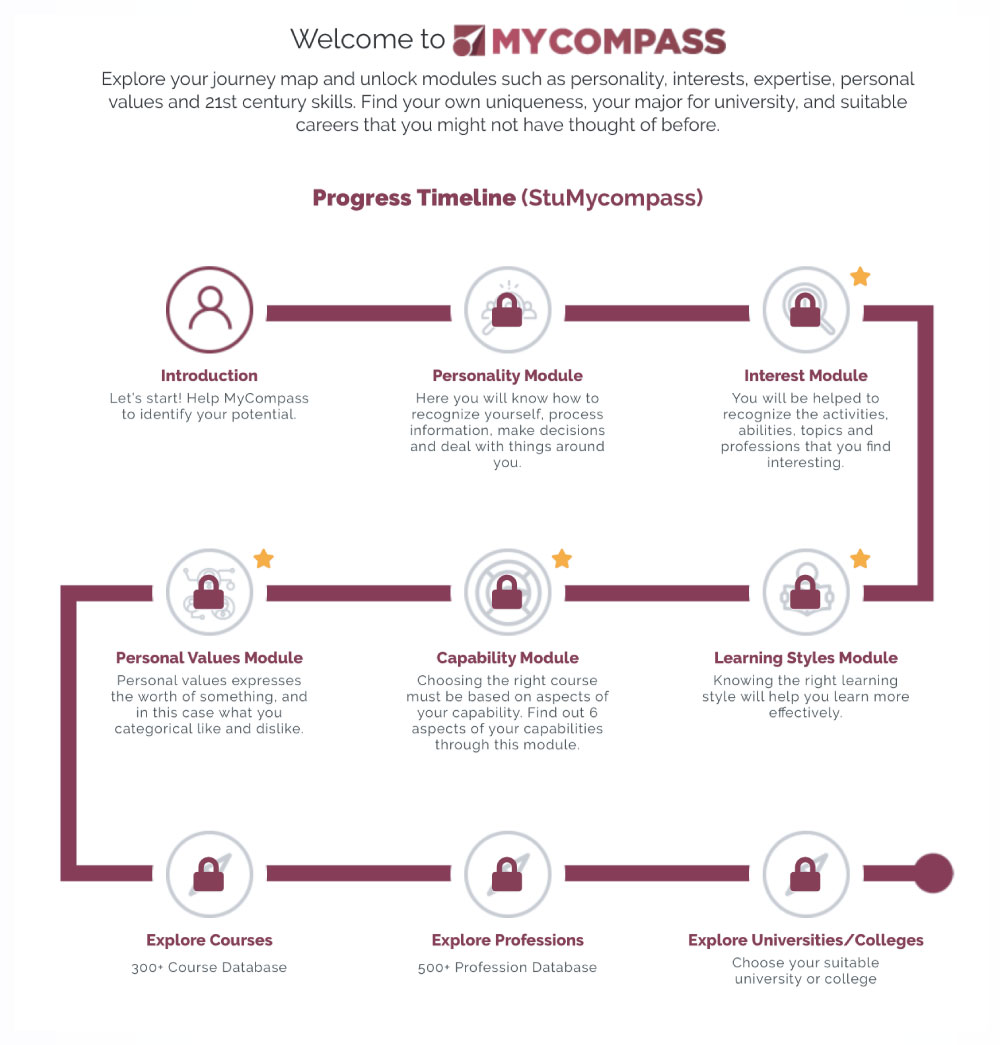 Curious to know the range of courses and professions analysed by MyCompass?
We have a list of recommended courses and professions to suit your academic criteria. You may choose a course and profession that matches your interest and self-efficacy, then compare your personality assessment result with your choice of course and professions. You may also match and analyse your assessed skills with the skill values required by the related courses and professions.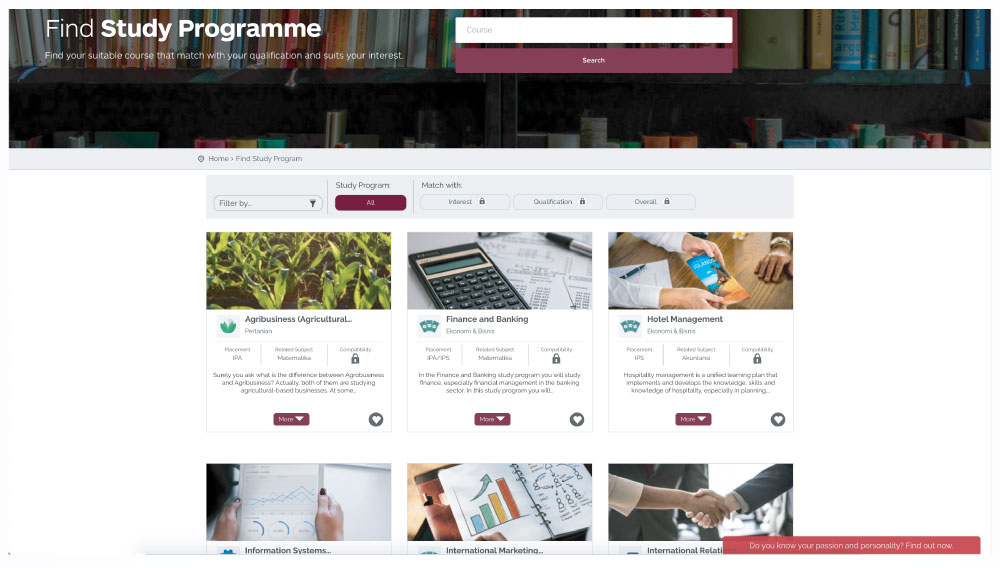 Do you want to identify your overall unique potentials?
You may do so at the Assessment Result menu. Here, you may check the results from the modules that you have completed. If you have upgraded your account to MyCompass Premium Explorer, you may see the Final Report which summarises the entire module results in a comprehensive report, with the list of recommendations for your course of studies and professions. The Final Report may be downloaded and printed too.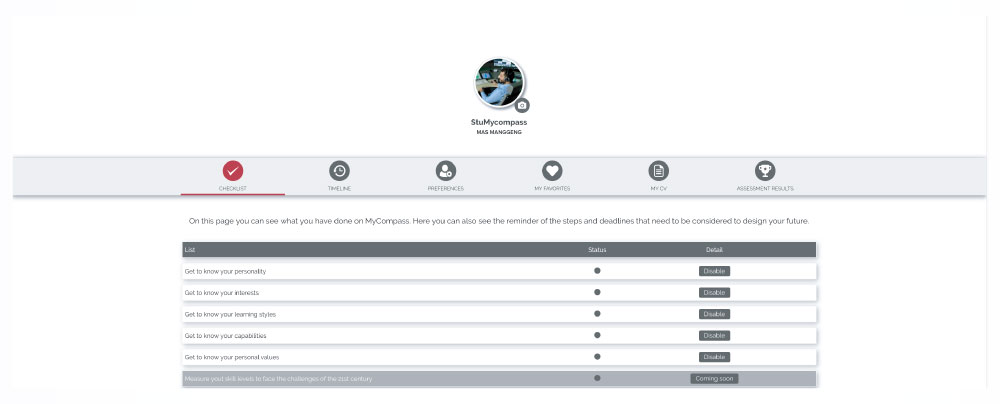 Want to learn more about the variety of courses, professions and universities?
Explore hundreds of courses and professions offered as well as hundreds of universities.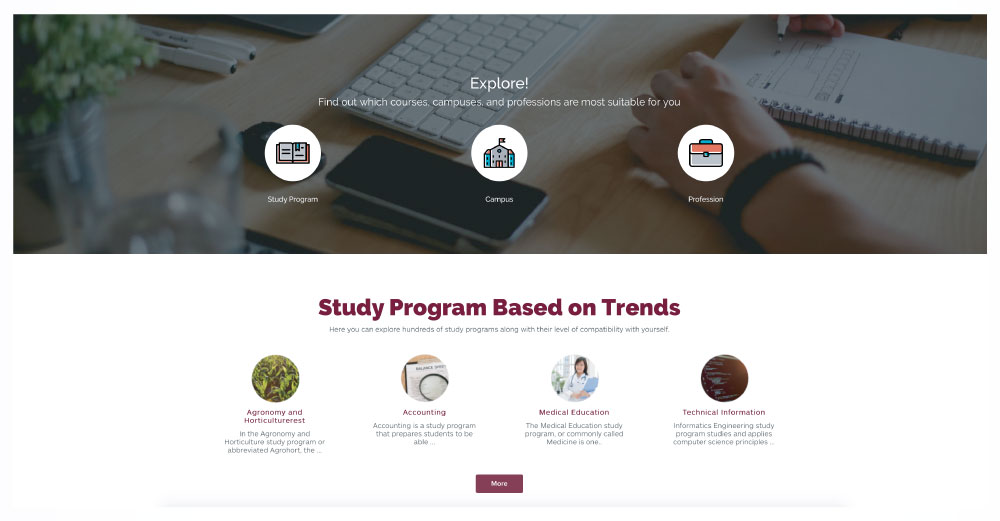 Do you ever wonder what kind of activities you should prepare for your college and career planning?
Fret not, as part of the Adaptive Lecture and Career Plans, Timeline feature will assist you in planning your activities. At the beginning of every semester, you may plan the activities using the list of recommended activities. MyCompass will notify you of the important activities you need to complete.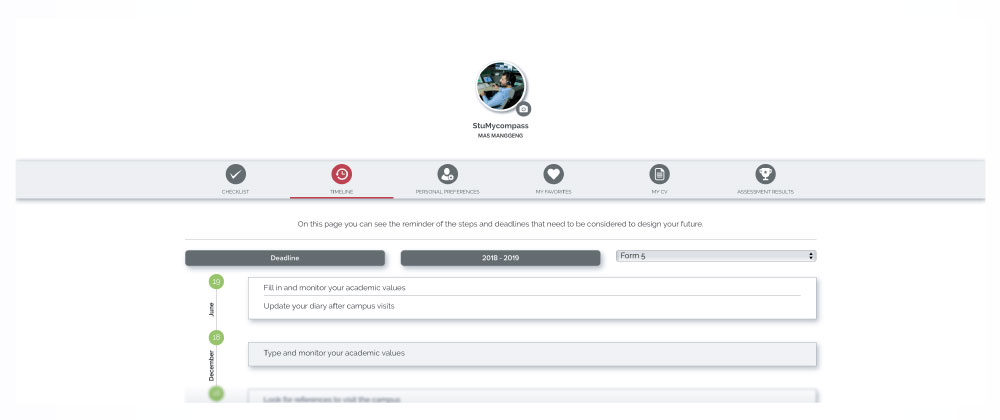 You don't have to worry about needing to write down the important activities in order to achieve your goals, we are here to help.
With MyCompass, you may achieve your goals just by using our Checklist feature. We have gathered and list down a variety of activities for you. You may easily mark off the completed activities, and the feature will send a reminder to complete the activities prior to the beginning of your college and career journey.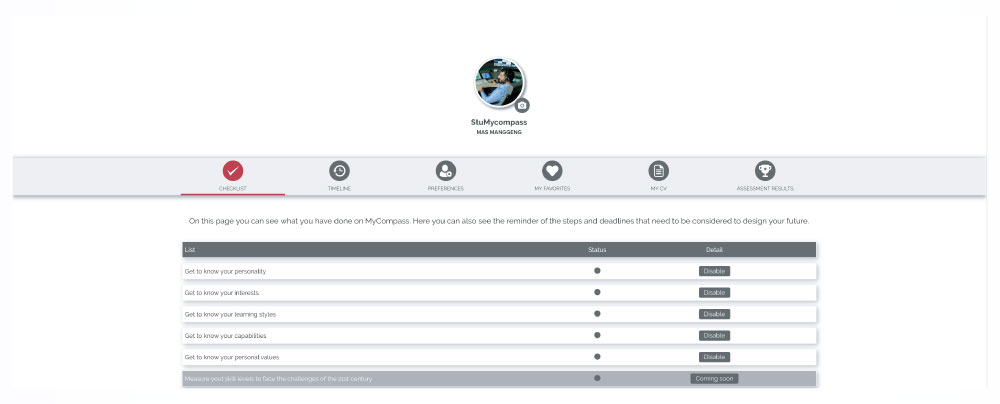 Setting the first step into the professional world has never been this easy.
My CV enables you to create your personal and professional portfolio. Just fill in your information and MyCompass will automatically generate a CV based on the input data. MyCompass also notifies future candidates with internship placement and job opportunity, so remember to make your CV as interesting as possible.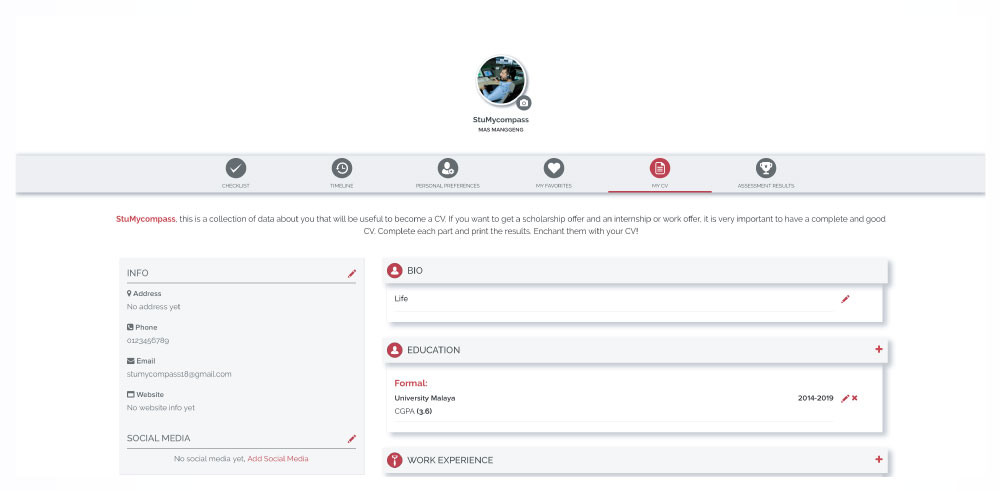 Want to read journals/courses/campuses/professions of your choice on another day?
You may save any journals or articles in the My Favourite feature. This feature allows you to make your own private archives and academic diary to compare and evaluate the various courses/campuses/professions that you are interested in.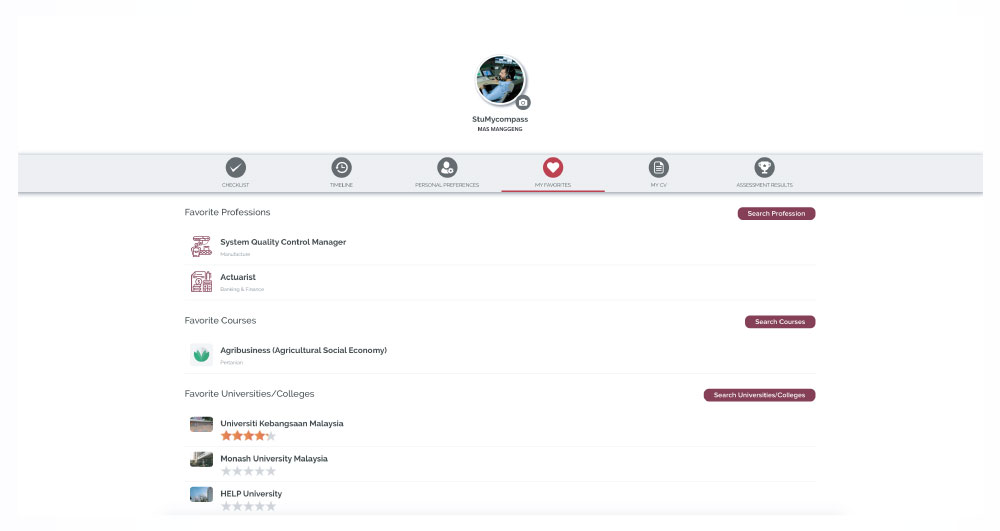 At the Find Studies Program feature, you may attain all the necessary information related to your studies program including the complete description, list of courses, students' character, job prospects, campuses that offer related studies programs and testimonials from fellow alumni.

Find out about the thousands of current professions through the Find Profession feature. You may attain all the necessary information such as the job scope, average salary as well as skills and abilities required in each profession.

Explore the variety of universities in Malaysia through the Find Campus feature. You may obtain information about accreditation, tuition fees, number of lecturers and students, job opportunity post-graduate, student assessment in relation to the campuses and registration information.