Four Malaysian Universities Listed in QS Top 50 Under 50 ranking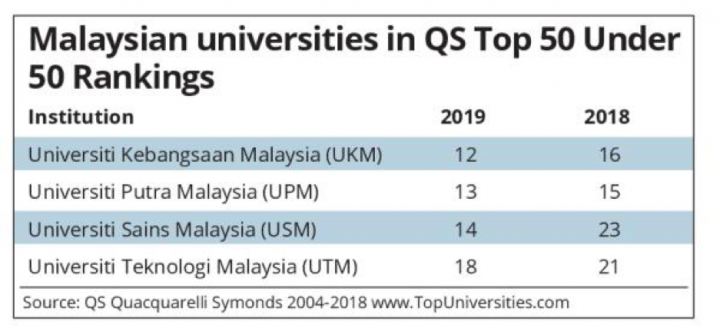 Four Malaysian universities have been listed in the Quacquarelli Symonds (QS) World University Rankings Top 50 Under 50 2019.
Universiti Kebangsaan Malaysia (UKM) was the highest ranked institution at the 12th spot, up from 16 last year.
The 48-year-old university is closely followed by Universiti Putra Malaysia (UPM) at 13th place, Universiti Sains Malaysia (USM) in the 14th slot and Universiti Teknologi Malaysia (UTM) at 18.
The other Malaysian universities to make the list – though not in the top 50 – are UCSI University (61-70), Universiti Teknologi Petronas (71-80), Taylor's University (91-100), Universiti Utara Malaysia (UUM) (101-150), International Islamic University Malaysia (101-150) and Universiti Tenaga Nasional (101-150).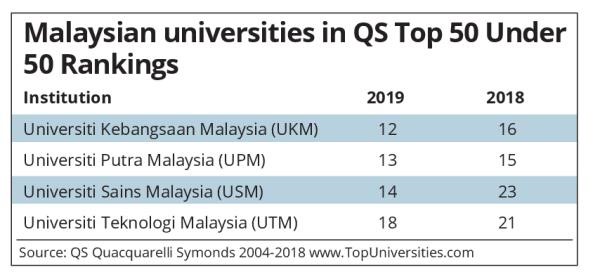 Universiti Malaya does not qualify as it was set up in 1905, making it over the age limit as the QS Top 50 Under 50 ranks universities that have been established within the past 50 years.
UKM vice-chancellor Prof Tan Sri Dr Noor Azlan Ghazali said: "UKM is very proud yet humbled by this best ranking achievement since our establishment in 1970. This is our special gift for Malaysia."
He added that the ranking proves that the university is on the: "right track and we must continuously measure ourselves with global peers without forgoing our national motives," he said.
UCSI University's latest milestone was welcomed by its founder, Datuk Peter Ng, who started the university on a shoestring budget of RM2,000 in 1986.
"Being ranked in the world's top 70 is a testament to all the hard work and perseverance we have put in from day one," he said.
"We started from nowhere so I can only thank God for the many blessings."
UCSI University vice-chancellor and president Senior Prof. Datuk Khalid Yusoff welcomed the announcement, saying that UCSI's achievement proves that Malaysian universities are being well-recognised globally, even though they might be young and new.
UCSI was ranked 481 in the recent 2019 QS World University Rankings.
Taylor's University vice-chancellor and president Prof Michael Driscoll said: "This is an exceptional result, particularly as Taylor's University is just over eight years of age, the youngest university in the world to make it to the top 100 list."
"This achievement also highlights Taylor's ongoing commitment to being a truly world-class university that is recognised globally for its research strengths, engagement industry and innovative teaching pedagogy," he added.
QS research director Ben Sowter said universities from the Asia-Pacific region have dominated the latest edition of the rankings, with 27 of the 50 places occupied by institutions from Asia or Australia.
"Our Top 50 under 50 Ranking is no consolation prize for those universities that are included: 47 of the top 50 place among the top 400 of our overall table, and all 50 have featured among the top 400 at some point in their brief but successful histories," he said in a statement.
Nanyang Technological University, Singapore tops the list this year followed by Hong Kong University of Science and Technology and Korea Advanced Institute of Science & Technology.


Source : https://www.thestar.com.my/news/nation/2018/06/21/four-msian-varsities-listed-in-qs-top-50-under-50-rankings/

Categories